Year in School: Junior
Hometown: Deerfield, IL

Academic Major and Minor(s)
Major: Marketing major with a concentration in Social Media
Minor(s): Advertising/Public Relations and Creative Writing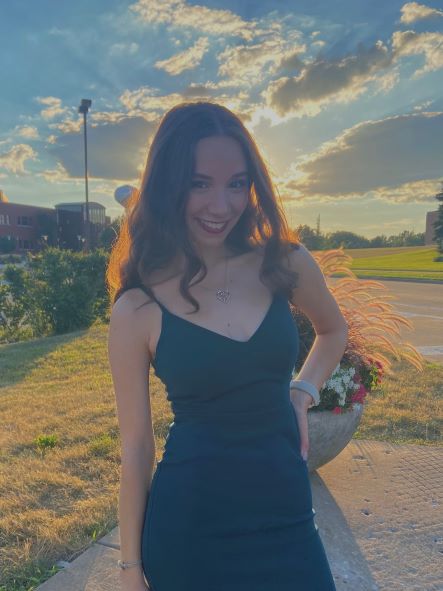 How did you decide to major in your academic program?
I took a marketing class in high school which sparked my passion for the subject and I liked how marketing is a perfect balance between analytical and creative.
What has been your favorite class at Bradley?
My favorite class at Bradley so far has been ENG 207: Introduction to Creative Writing. Creative Writing is a huge passion of mine, however it isn't what I want to pursue professionally so I was really excited when I found out Bradley offers a Creative Writing minor. In ENG 207 I received fantastic peer and faculty feedback on my work that really shaped me as a writer. I felt as though our teacher, Amy Eggert, was always pushing us to write at the next level and because of that, the overall quality of my work has elevated. If I had the chance, I would take the class again in a heartbeat!
Share an experiential learning opportunity you have had inside or outside of the classroom.
Outside of the classroom I have had three marketing/social media internships – all of which I have discovered through Bradley connections, whether that be a fellow student, Bradley NetWORK, or my advisor. My current internship at ROOF TIGER has been the best experience I have gained thus far. Each and every day is a new adventure and my boss is an endless wealth of marketing knowledge and always challenges me to think outside the box. This past summer working at ROOF TIGER I got to work on some awesome projects that included geo-targeting video campaigns and was able to network with local business owners and entrepreneurs. This internship confirmed that marketing is my passion and further inspired my entrepreneurial pursuits.
Who at Bradley has been instrumental to your college experience and why?
Professor Brad Elward has been instrumental to my college experience. He taught my COM 103 class and I learned an incredible amount about public speaking and how crucial it is to any profession you pursue. Brad Elward is a dedicated teacher and committed to making each of his students leave his class feeling more confident as a speaker and an individual. To this day we still email back and forth about my progress in school and I hope to take another one of his classes soon!
What are your future goals and how is Bradley preparing you to reach them?
My future goal is to go to graduate school in Chicago for my MBA. Bradley is preparing me for this goal by giving me a strong base with my Foster College core curriculum so I will be able to handle my graduate level coursework. In addition to that, Bradley has provided me with opportunities and connections to gain internships and real world work experience. Even further in the future (I know I dream big!) my end goal is to be the CEO of my own company!
What is one piece of advice you would offer to students considering your major?
When going into Marketing, do not be afraid to add a concentration or minor(s) early on – it'll only make you a more well rounded individual and a better candidate for a job in the future. Also take advantage of as many internship or "real world" opportunities as you can. Seeing what you learn in the classroom come to life in the workplace is so rewarding.
Anything else about your academic experience you would love to share?
Bradley has shaped me into the best version of myself through the amazing friends I have made, the welcoming student organizations and the challenging classes. All of these factors have ignited a period of self-growth in which I feel that I have finally come into my own in this world, and I am ready to contribute the most I can, to my little corner of it.