Let's talk about campus safety. We want students to be safe and make smart decisions while at Bradley. In this week's blog post, we invited a very special guest to sit down with Angie and discuss campus safety as both a father of current Bradley students and as a member of the Bradley University Police Department (BUPD).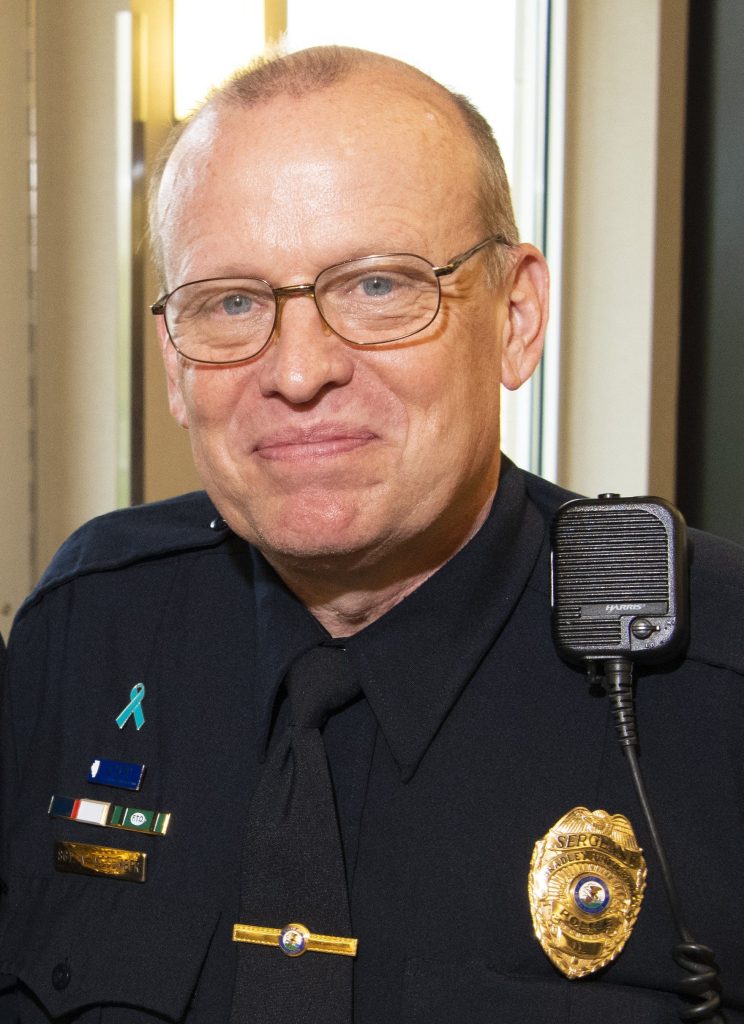 Angie: Hello and welcome to our guest, BUPD Sergeant Nick McCumber. Sgt. McCumber, can you tell us a little bit about yourself?
Sgt. McCumber: Hello! I am BUPD's 1st Shift Sergeant and Crime Prevention Officer. I have been in law enforcement for 34 years, with 9 of those years at Bradley.
Angie: And let's talk about your kids for a minute. You have kids that are currently attending Bradley, correct?
Sgt. McCumber: Yes, I have two kids currently attending. My youngest daughter is majoring in Business/Ethics and will be graduating in May 2024 and my youngest son is currently in his first-year at Bradley.
Angie: You have a unique perspective on campus safety at Bradley as both a father and an officer. If you can put on your "dad hat" for a minute, how do you feel about campus safety at Bradley? Do you feel that your kids are safe while on Bradley's campus?
Sgt. McCumber: Absolutely. It is very safe on and near campus and is well-patrolled. I've made sure that my kids know to always travel with a friend and avoid risky situations. I always tell students to use Bradley's Safety Cruiser and make smart decisions, like using ride share safely, travel in groups, and never hesitate to call BUPD if they feel unsafe.
Angie: That is great advice for any college student. Let's talk about how you connect with Bradley students and provide information to them. Are there safety sessions or programs offered?
Sgt. McCumber: We host short self-awareness and self-defense classes each semester that are open to all students. We also hold Emergency Preparedness talks each semester that are open to everyone. For anyone wanting to find out more information, we regularly use our social media platforms to advertise our programs as well as posting safety tips every week. We also advertise our programs in Hilltop Happenings, which is an email that is regularly sent to all Bradley students to announce all things happening on campus.
Angie: We often hear from parents of prospective students that they are worried or anxious about their child's safety on campus. What would you tell a parent to ease their concerns?
Sgt. McCumber: While safety is a concern for all of us, BUPD actively works on campus and in the Peoria community to keep everyone safe. And practicing individual safety, like I mentioned earlier, will get everyone through to graduation safely!
Angie: One final question for you – what is the best part of working for BUPD?
Sgt. McCumber: As a Bradley University graduate myself, it was a bit like coming home. My work here at Bradley has allowed me to have some of the best and most rewarding interactions with the people I serve!
Angie: Thank you so much for chatting with me today. I really appreciate hearing about campus safety from your perspective as a father, which is so impactful to all the parents reading this post. We appreciate all the hard work that BUPD puts into keeping our campus and our students safe.