Year in School: Sophomore
Hometown: Smithboro, IL
Academic Major and Minor(s)
Major: Kinesiology and Health Science
Minor: Biology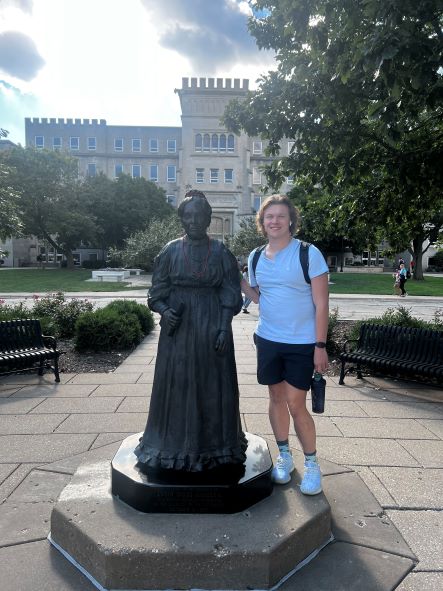 How did you decide to major in your academic program?
I want to become a physical therapist and knew kinesiology and health science was a good starting place!
What has been your favorite class at Bradley? (Can you share a class project/lab or experience that particularly stands out to you?)
My biology labs! My favorite lab we did was gel electrophoresis which was a method for separation and analysis of biomacromolecules and their fragments, based on their size and charge. We used gel electrophoresis to separate particles of DNA based on size! I thought this was super cool and interesting due to the fact I was using electricity to separate DNA particles as a first year student!
Share an experiential learning opportunity you have had inside or outside of the classroom.
I am part of a research team and it is very hands-on and great experience in the research field.
Who at Bradley has been instrumental to your college experience and why?
Jessica Tilton, my biology lab professor and research team leader! She inspires me everyday to chase my dreams and has always been a shoulder to lean on when I need it!
What are your future goals and how is Bradley preparing you to reach them?
I want to own my own pediatric physical therapy clinic! Bradley is preparing me by teaching me the fundamentals that goes into physical therapy and different ways to be successful post graduate school!
What is one piece of advice you would offer to students considering your major?
Do not be afraid of all the math and science! There are tons of study groups and you will make friends who are all going through the same things as you!
Why is Bradley an exceptional place to study your academic major?
Bradley is an exceptional place due to the fact we have a doctorate of physical therapy school and the undergraduate and graduate professors love helping the KHS students!