In this week's blog post, Angie will be speaking with Jordan Tatgenhorst, who is studying Mechanical Engineering at Bradley University. Jordan sits on our student panels during our Visit Programs and frequently mentions that Rick Smith from the Smith Career Center is one of her favorite people at Bradley. Let's hear why she says that and how her Bradley experience has been impacted by the Smith Career Center.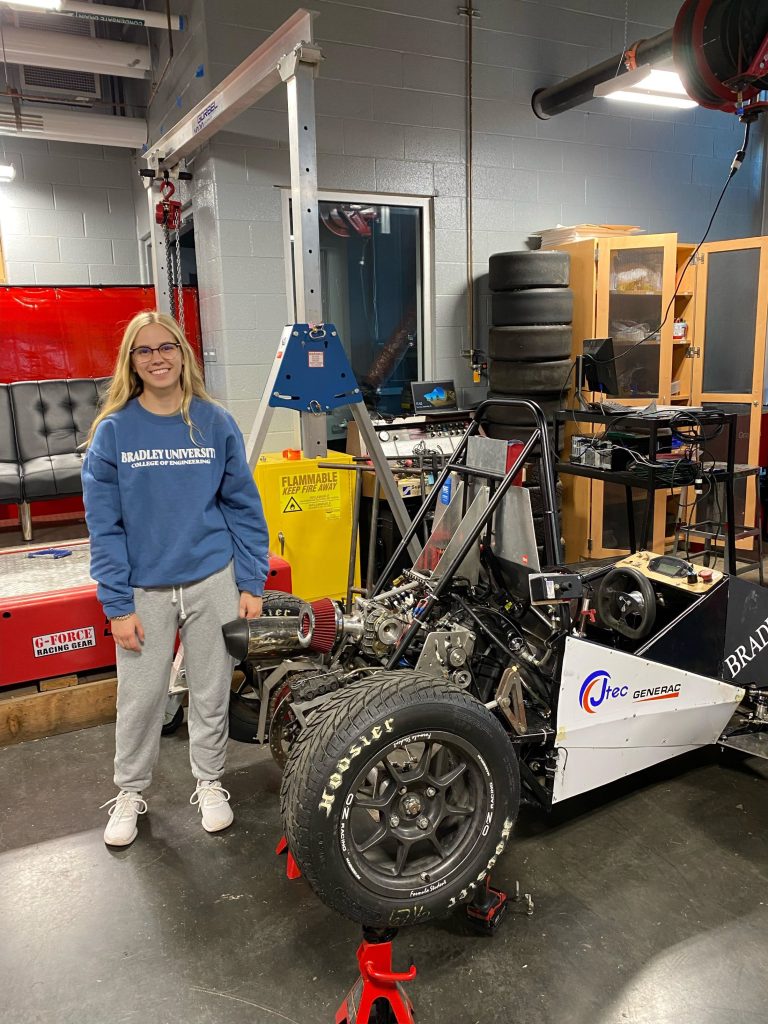 Angie: Jordan, you have said before that Rick Smith is your favorite person at Bradley. Would you be able to tell us who Rick Smith is? And why is he your favorite person at Bradley?
Jordan: Rick Smith is the engineering career advisor at the Smith Career Center. A common misconception is that it is named after him, but sadly it is not. He helps students with strengthening resumes, finding internships, and anything else that comes with preparing students for after graduation. Dr. Smith is one of my favorite faculty at Bradley because he has helped me with preparing for interviews. As well as navigating my way through finding an internship and presenting myself in the best way.
Angie: What made you first decide to use the Smith Career Center?
Jordan: I am the first person in my family who is an engineer and didn't have any connections. I wanted to put my best foot forward and get ahead of the game, so I thought that meeting with Dr. Smith early-on in my internship search would be beneficial.
Angie: Was it easy to figure out how to ask for help?
Jordan: It is so easy to ask for help! Students get weekly emails from their career advisor with information sessions and tips to help students find jobs or internships.
Angie: Can you tell us about a specific time that the Smith Career Center helped you (getting a job/internship, writing a resume, etc.)?
Jordan: After the job fair my sophomore year, I had a few interviews lined up the following week. I didn't have a lot of interviewing experience and I wanted to have an idea of what questions the company would ask me. I met with Dr. Smith and he had a list of questions and some unique ones that might come up, and sure enough, they did. I ended up getting two offers and secured an internship for that summer.
Angie: What was one thing that was surprising about the Smith Career Center? Maybe something you didn't realize it did when you first heard about it. 
Jordan: I was surprised at how many events that they have in preparing students for the career fair. As a freshman, I rarely read the emails because I wasn't searching for an internship. During my sophomore year, I started to read the emails and go to some events and they were extremely helpful. My favorite event that is hosted by the Smith Career Center is the Resume Critique Day! They host a bunch of companies that come to review student's resumes and offer great advice. It happens twice a year and occurs before both job fairs.
Angie: Let's talk about meeting with your career advisor. How do students set up an appointment? What if a student doesn't know who to contact?
Jordan: Dr. Smith sends out emails twice a week and on the bottom of his emails there is a link to schedule a meeting. Students can also go to the Smith Career Center website and there are different career advisors for different majors to schedule meetings.
Angie: How do Bradley's career advisors help students find jobs?
Jordan: Each major at Bradley has their own career advisor. Students are able to schedule appointments with their advisor to start searching for a job or internship. They are also able to attend job information sessions hosted by the career center. The biggest way that the Smith Career Center helps students to find jobs is through the career fairs. In the fall of 2022, there were about 205 companies that came to hire Bradley students!
Angie: Last question, do you ever see yourself using the Smith Career Center after you graduate?
Jordan: I will absolutely use the Smith Career Center after I graduate. As a junior now, I have an internship for the summer of 2023, however, my search will continue when I need to find a full time position. After I graduate, I will always be keeping an eye out for opportunities that can bring a new challenge and I look forward to working with the Smith Career Center to find the perfect job for me.
When we meet the class of 2027 this fall, we know we are meeting the next generation of leaders and professionals who are going to change the world. At Bradley University, we see our students' four years as a launching pad for the rest of their life. We want to give them the opportunities they need to be successfully sent into the world, ready to take on whatever comes their way.